About Us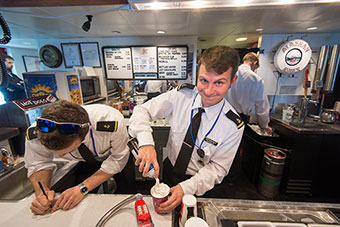 Phillips Cruises and Tours began in the late 1950's when Brad and Helen Phillips, founders of our company, began operating in Prince William Sound with the vessel M/V Gypsy, an 85-foot vessel previously owned by John Barrymore. Unfortunately, that historic vessel was lost in the great 1964 Alaskan Earthquake. In 1985, the company was the first to pioneer the use of high-speed catamarans in Alaska which provide for a much smoother experience for passengers then mono-hulled vessels.
Since those early beginnings, Phillips Cruises & Tours, LLC has grown to be Alaska's premier day cruise business offering first-class service exclusively on smooth and fast catamaran vessels. Operating and cruising in the calm waters of Prince William Sound provides the perfect venue for passengers to experience spectacular tidewater glaciers, abundant wildlife and amazing scenery. Our "fast cats" whisk passengers on their adventure in style and comfort.
Only a little over an hour from Anchorage, the town of Whittier is our base of operations and is considered the "gateway to Prince William Sound". Take your car, take a train or take a bus. This one day experience will definitely be the highlight of your trip to Alaska. Let us show you our Prince William Sound as only we can show it. We are an Alaskan owned and operated business with over 50 years of experience and pride.
We actively support our local communities and national trade organizations.
AAA Discount Rewards
Adventure Travel Trade Association
Alaska.org
Alaska Travel Industry Association
Anchorage Alaska Bed and Breakfast Association
Anchorage Chamber of Commerce
Ayleska Girdwood Accommodations Association
American Bus Association
Brand USA / IPW
Fairbanks Convention and Visitors Bureau
Girdwood Chamber of Commerce
Greater Whittier Chamber of Commerce
Homer Chamber of Commerce
Kenai Chamber of Commerce and Visitors Center
Mat-Su Convention and Visitors Bureau
Kenai Peninsula Tourism Marketing Council
National Tour Association
Seward Chamber of Commerce
Soldotna Chamber of Commerce
Talkeetna Chamber of Commerce
Visit Anchorage
Captain Logs:
Every guest receives a complimentary Captain's Log that details the glaciers, wildlife and route traveled. The Captain's Log is translated in Chinese, Japanese, Korean languages.
Seating Charts