Phillips Cruises & Tours, LLC
We are excited to share the beauty of Alaska's Prince William Sound with you. As you make your plans to cruise with us, you may have questions. We invite you to give us a call, submit a question using the form at the bottom of the page, or stop by our Anchorage office for assistance. We would be glad to help!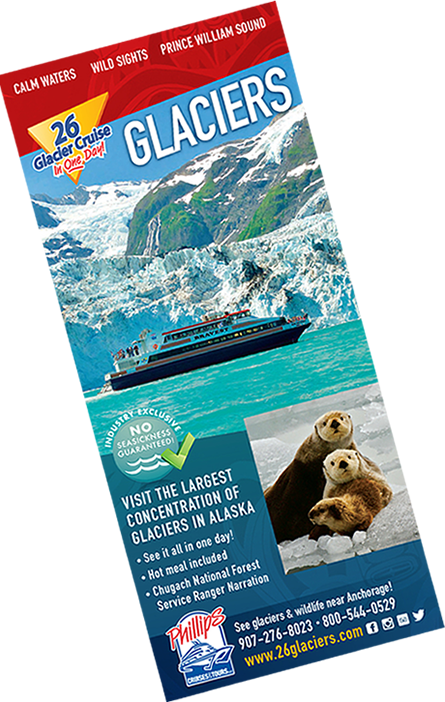 Download our brochure
To get an overview of our cruises, check out our 2018 Brochure.
Learn about our cruises online
We have lots of details online, along with an easy way to reserve the cruise you have selected. 26 Glacier Cruise * Glacier Quest Cruise
Once booked, you will receive an e-confirmation. To expedite the process when you arrive in Whittier for your cruise, please bring your photo I.D. and the e-confirmation. Proceed to our Express check-in window located on our marina view observation deck to get your boarding cards. See you soon!
Anchorage Office
Our team is here to help you book your glacier cruise and other Alaska activities. Give us a call or visit our Anchorage office. We looking forward to helping you finalize your reservation.
Summer Hours: Daily, 7:00 a.m. to 10:00 p.m.
Winter Hours: Monday - Friday, 8:00 a.m. to 5:00 p.m.
907-276-8023 Phone
907-277-5890 Fax
1-800-544-0529 Toll-Free
Monday - Friday, 8:00 a.m. to 5:00 p.m.
519 W 4th Ave
Anchorage AK 99501
Google Map - Anchorage Office

Whittier Summer Office:
Our cruises depart from Whittier, Alaska.
Cliffside Marina
100 West Camp Rd
Whittier AK 99673
907-276-8023 Reservations and Directions
Please note there is extremely limited cell service once you turn off the Seward Highway at Mile 79 onto the Portage Glacier Road. We strongly recommend that you download our "Know Before You Go" so you have driving directions and details on where to find us once in Whittier.
Google Map - Whittier Office