Glacier Quest Cruise
May 15 - September 16, 2018
1:00 PM - 4:45 PM
$109 Adult + tax/fees, $69 Child age 2-11 + tax/fees
Highlights
Explore 45 miles of Prince William Sound
Shotgun Cove, Blackstone Bay, Passage Canal
Cruise route features 7 named glaciers and many more
Complimentary hot meal, coffee, hot tea and ice water
Custom narration by Chugach National Forest Service Ranger
Exclusive No Seasickness Guarantee
Glacier Quest Cruise Route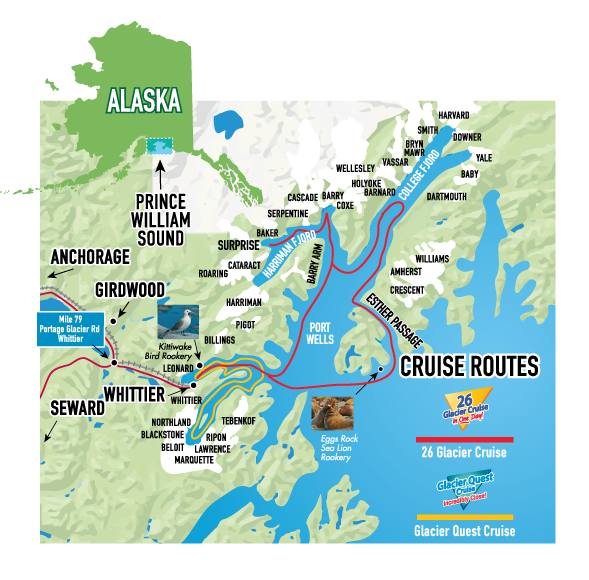 The Glacier Quest Cruise takes you from Whittier to Blackstone Bay, a dramatic deep-water fjord where two tidewater glaciers and several alpine glaciers await. From timberline to sea level, a mature, thick spruce forest provides a dark green contrast against the white spray of waterfalls stemming from the 8 glaciers hugging the mountain peaks.
As you cruise towards the head of Blackstone Bay, Tebenkof Glacier towers above on the left. After passing this valley glacier, Blackstone and Beloit Glaciers rise before you. We will get you close to both with plenty of time to watch and listen to the sights and sounds these massive glaciers provide.
Along the way, we also make a stop at an old shipwreck in Shotgun Cove. Be sure to look for wildlife roaming the shores.
The Boat: M/V Glacier Quest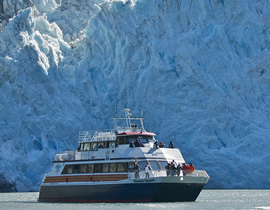 The M/V Glacier Quest is an 80-foot catamaran which holds 149 passengers on 3 decks, two of which are enclosed and heated with an inside seat and table for every passenger on board. The M/V Glacier Quest is a smoke-free vessel.
Comfortable upholstered booths with tables are available for all passengers and the large picture windows provide a view from every seat. A saloon, snack bar and gift shop are a few of the other amenities available to our Glacier Quest passengers.
The Glacier Quest can accommodate guests with limited mobility who can walk short distances or step over raised thresholds. An ADA accessible restroom with a baby changing table is available in one of the three restrooms on board. Amble viewing room inside and on the outside view decks gives everyone a terrific view during the cruise. More about the boat...
Captain Logs:
Every guest receives a complimentary Captain's Log that details the glaciers, wildlife and route traveled. The Captain's Log is translated in Chinese, Japanese, Korean languages.