The Cruise Experience
Welcome aboard Phillips Cruises and Tours, LLC. Every cruise into Prince William Sound is a unique and memorable way to view the beauty of the glaciers and wildlife of this pristine wilderness area. Conditions change daily due to weather, ice flows, and wildlife activity. On a daily basis, the captains adapt to these changing conditions to provide the best cruise experience while keeping your safety and comfort a top priority. The crew is attentive throughout the cruise ensuring that your time with us is an enjoyable memory and a favorite highlight of your Alaska vacation.
No Sea Sickness - Guaranteed
With the combination of our stable catamarans and the protected waters of Prince William Sound – we guarantee a trip without sea sickness or your money back. If you're concerned about motion sickness in the least, we're the choice for you!
Cruise With A Chugach National Forest Ranger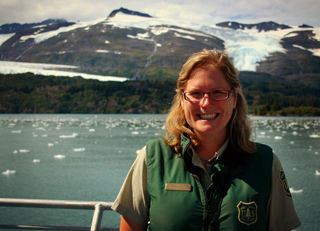 Narration on our 26 Glacier Cruise and our Glacier Quest Cruise is provided by Chugach National Forest Service Rangers. They share an insiders' view of this area and are available throughout the cruise to teach you about the natural history of the area. Families cruising with children are actively engaged during the cruise as they work through the Junior Ranger activity book. Towards the end of the cruise, once the activity book is completed, the children can earn a badge as they agree to be good stewards of our National Forests.
Complimentary Hot Meal!
We never charge extra, meal is on us! Choose one of the following meal options:

Wild Alaskan Smoked Salmon Chowder and a fresh Julienne Vegetable Salad.
Hearty Vegetable Chili and a fresh Julienne Vegetable Salad.
Gluten Free Vegetable Chili and a fresh Julienne Vegetable Salad.
Kids meal (Age 2-11) Choose from the above options or choose our all beef hot dog, chips, and a fruit cup.
Note: Our popular Wild Alaska Smoked Salmon Chowder will be served unless another option is requested at booking.
Guests with special dietary concerns may consult our 2018 Meal Nutritional Facts. If we do not have a meal that meets your special circumstances, you are welcome to bring your own food, however, no alcohol made be brought on or taken off our vessels.
COMPLIMENTARY TEA, COFFEE, WATER
We provide complimentary hot tea, coffee, and ice water at self-serve stations on the vessel located on the aft portion of the vessel. Condiments for lunch or snack service and extra napkins are also available for your use during the cruise.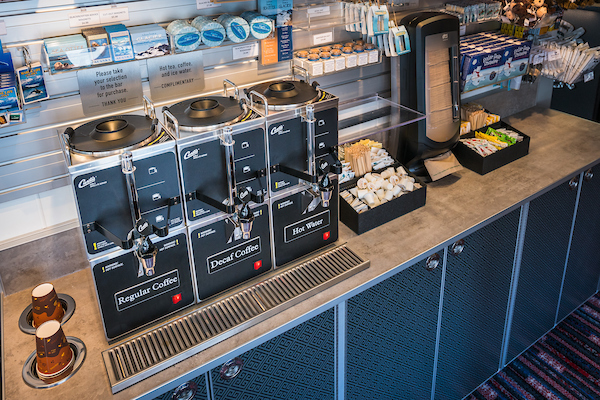 Full-Service Saloon
Warm your spirits with one of our signature hot drinks or freshen up with our very own Glacier Ice Margarita. Also available for purchase, our full-service bar features Alaskan ales on tap, wine, a full selection of spirits and liquors. Try our klondike coffee or a polar bear smooch hot chocolate. Both are delicious treats when you come inside after feeling the cool glacier breeze on your face.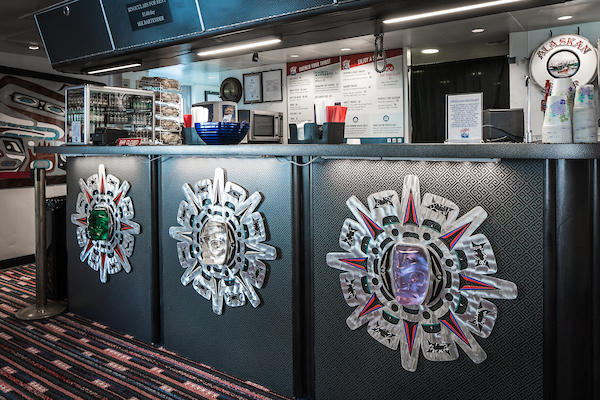 M/V Klondike Express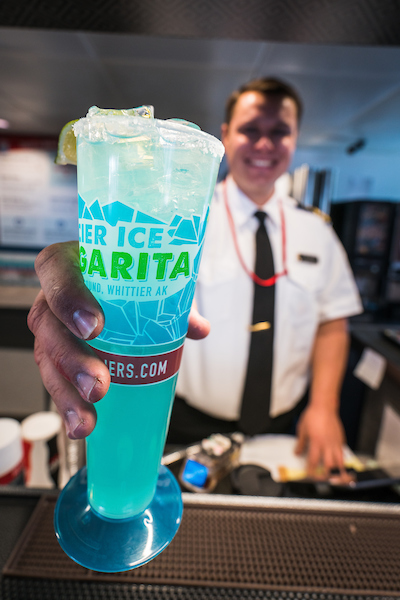 M/V Klondike Express
Snack Bar
During the cruise, our snack bar is open throughout the voyage. We offer nacho chips with cheese and reindeer dogs. In our display area for gifts and other items, we also have jerky sticks, trail mix, chocolate bars, and other snack items to help satisfy your cravings. Try one of our delicious polar bear smooches. These peppermint candies have the perfect combination of dark and milk chocolate and melt in your mouth. The snack bar and gift area are located on the main deck toward the aft section of both vessels.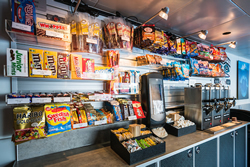 M/V Klondike Express

Gift Shop
A small selection of Alaska-themed gifts is available for purchase on board to share your cruise experience with friends and family back home. If you are seeking a larger variety of gifts or wish you had purchased that favorite item onboard, you can visit our main gift store in Anchorage called Grizzly's Gifts. It is located at the corner of 4th and E Street in downtown Anchorage.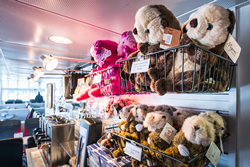 M/V Klondike Express
Restrooms
The M/V Klondike Express is equipped with seven restrooms located on the main and upper deck. The M/V Glacier Quest has three restrooms on the main deck. Both vessels have an ADA accessible restroom and baby changing table.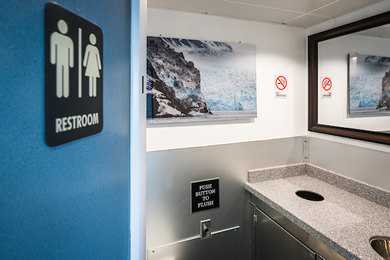 M/V Klondike Express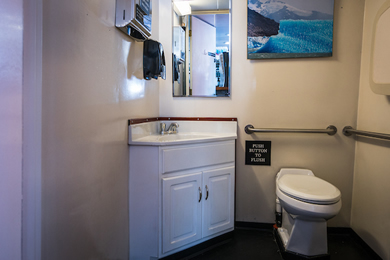 M/V Glacier Quest
USB CHARGING STATIONS
Our 26 Glacier Cruise is operated by the M/V Klondike Express. While viewing Prince William Sound, the cool air can often drain batteries quicker than expected. As technology advances, we are adept at leading the way to enhance our guest experience by being the first, day cruise tour operator to install USB charging stations at every guest table. We installed the charging ports so that all guests can share photos from their cruise with friends and family. Connect with us or post a review #26glaciers.



Don't forget! It's amazing to view the beauty from more than your 4" screen. Prince William Sound is magnificent and something that only your eyes can fully take in while gazing along the shoreline up to the horizon. Trace the jagged mountain tops to the rivers of ice twisting their way back down to the sea. And look for the wildlife watching you too.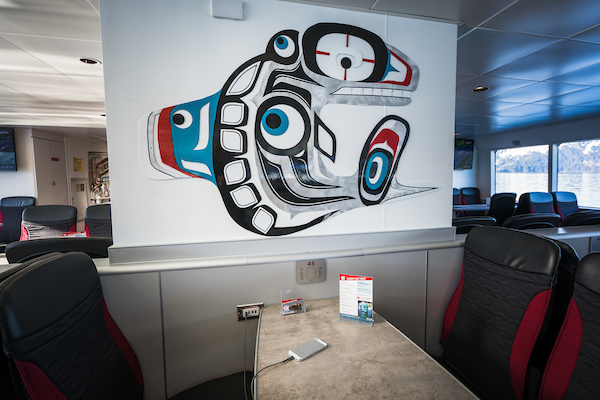 Reserved Seating
Large picture windows provide a view from every seat on the main and second deck on each vessel. Reserved indoor seating for each confirmed guest provides a designated location where we will serve lunch and creates a base camp to keep personal items during the cruise. Guests are encouraged to move about the vessel during the cruise to take advantage of the many outside observation decks. More seating info...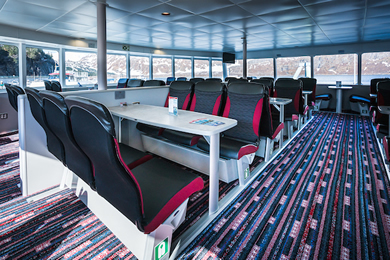 M/V Klondike Express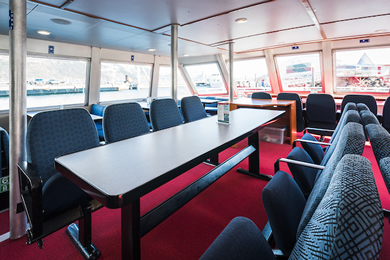 M/V Glacier Quest
ADA Accessible
Our cruises provide a safe and comfortable way to explore Prince William Sound. The Glacier Quest Cruise can accommodate guests with limited mobility who can walk short distances or step over a raised threshold. The 26 Glacier Cruise can accommodate most guests who require the use of a wheelchair during the cruise. Please contact us to discuss your special physical requirements in advance of your cruise.
If you require the use of a motorized wheelchair, please contact us at 907-276-8023 to discuss the options available for cruising with us and traveling to Whittier.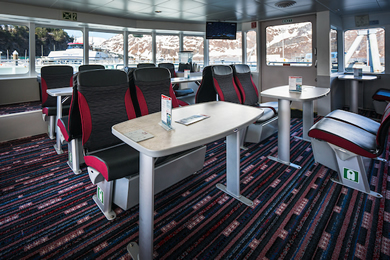 M/V Klondike Express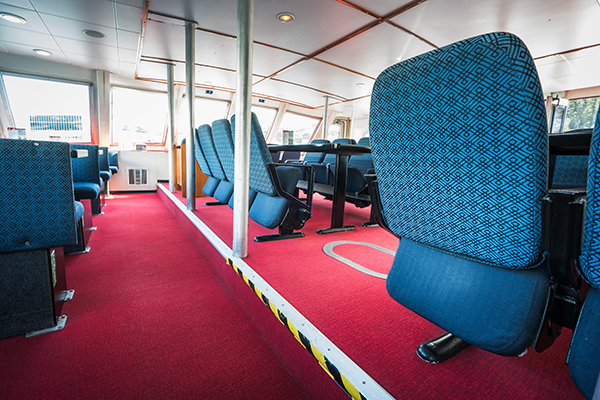 M/V Glacier Quest