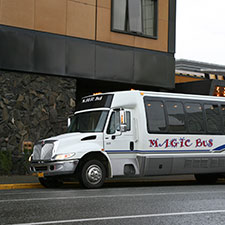 Leave the driving to us! Phillips Cruises & Tours partners with daily transportation providers to create seamless travel itineraries by rail or coach along the scenic Seward Highway, designated a scenic byway by the U.S. Forest Service. The Seward Highway is flanked by towering mountains on both sides and Turnagain Arm has the second highest tide change in the world, creating dramatic and ever-changing vistas. Your driver will point out the sights, make a stop for photos along the way.
A brief stop in Girdwood to pick up additional guests allows time for a restroom break. As the coach continues south and turns off the highway at Mile 79, the Portage Valley glaciers come into view, including Portage Glacier, a piedmont glacier that feeds Portage Lake. The final leg of the journey takes you through the longest shared tunnel in North America. Once through the tunnel, the quaint town of Whittier will appear. This is where your cruise adventure begins!

May 4 - September 30, 2018
Southbound Day Coach Service provided by The Magic Bus connects to our cruises
8:45 AM Depart Marriott Courtyard (Airport in Anchorage)
9:00 AM Depart Crowne Plaza (Midtown in Anchorage)
9:30 AM Depart Captain Cook Hotel (Downtown in Anchorage)
10:30 AM Depart Alyeska Resort (Main Lobby in Girdwood)*
12:00 PM Whittier arrival at Cliffside Marina
Northbound Day Coach service by The Magic Bus after our cruises
5:45 PM Cliffside Marina, Whittier, AK departure
6:45 PM Alyeska Resort, Girdwood
7:30 PM Anchorage and drop off at hotels listed above
8:00 PM Anchorage International Airport
*Please note that day coach service during the Forest Fair Weekend for guests departing from Girdwood, will only depart from the Tesoro gas station at the intersection of the Seward Highway and the Alyeska Highway.
Arrival Tips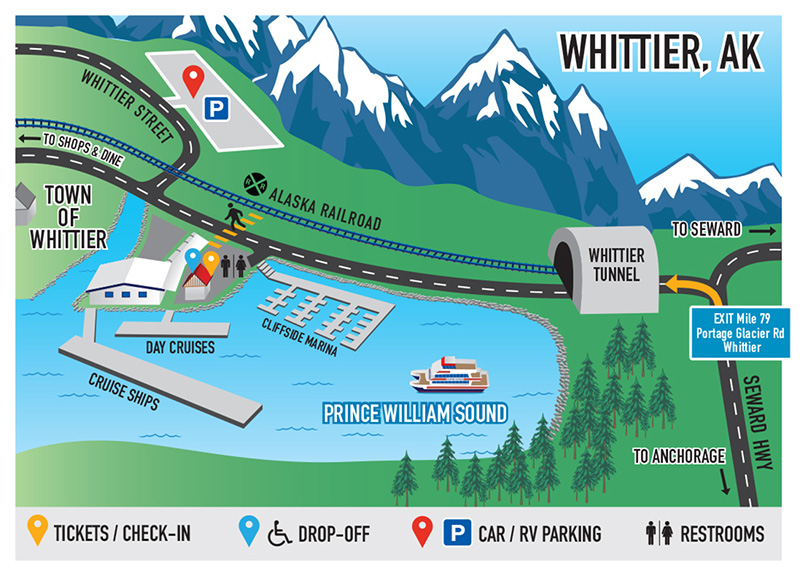 Upon arrival to Whittier, please check in for your cruise. You will see our ticket office with a yellow triangle sign on a red roof to your left as you approach the town. Our check-in booth is just a few steps away in the same lot by the Cliffside Marina which is where you will receive your boarding card for the cruise.
After checking in, we invite you to explore the town of Whittier. Here are a few of our favorite stops:
Drop by Lazy Otter for a coffee or salmon spread bagel.
Satisfy your sweet tooth at the Whittier Fudge Company
Seeking some fresh fish or shrimp? Check out Fee's Custom Seafood.
Buy a gift for friends and family back home from Log Cabin Gifts
Have lunch or dinner at China Sea or Swiftwater Cafe
Learn about WWII at the museum next to the Anchor Inn
Stay or dine at the Inn at Whittier
Stop by Wild Catch Cafe for Kaladi Coffee, breakfast or lunch
Check out kayaking options with Alaska Sea Kayakers
Watch the daily catch arrive in the small boat harbor
Hike a trail, walk the harbor, or just sit and relax or read a book
After your cruise, you may wish to visit the Alaska Wildlife Conservation Center, located at mile 79 on the Seward highway. This is a great place to view musk ox, moose, wood bison, caribou and even bears!