Whittier is an easy 63-mile drive southeast from Anchorage, with lots to see on the way. Be sure to check out the local attractions on your drive, from numerous photo stops along the famed Turnagain Arm to the Alaska Wildlife Conservation Center, Portage Glacier, and the longest tunnel in North America or join up with one of our popular transportation packages!
Allow 1.5 hours to drive from Anchorage to the Whittier Tunnel. North Americas longest shared tunnel is open every hour on the half hour, and we recommend taking the 10:30 AM tunnel from Bear Valley to Whittier for the 26 Glacier Cruise and the 11:30 AM tunnel for the Glacier Quest Cruise. More information is available for the Whittier Tunnel and the City of Whittier. Tunnel details: www.dot.state.ak.us/creg/whittiertunnel.
Phillips Cruises & Tours, LLC dock is accessed in the Cliffside Marina parking lot which is located at 100 W Camp Rd. Our office is open starting at 10:30 AM daily to purchase tickets or check in for your cruise.
26 Glacier Cruise Self-Drive:
9:00 AM Depart Anchorage, 10:30 AM Tunnel to Whittier, 6:00 PM Tunnel to Anchorage
Glacier Quest Cruise Self-Drive:
10:00 AM Depart Anchorage, 11:30 AM Tunnel to Whittier, 5:00 PM Tunnel to Anchorage
Arrival Tips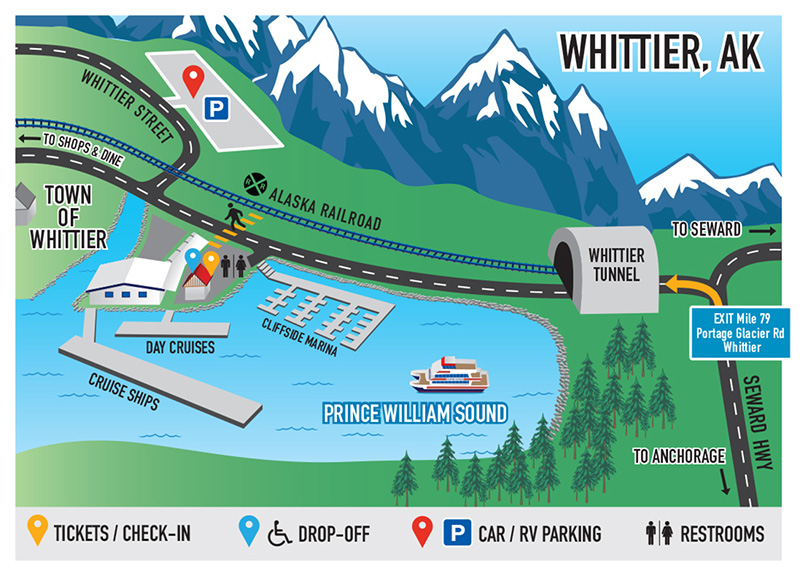 Upon arrival to Whittier, please check in for your cruise. You'll see our ticket office with a yellow triangle sign on a red roof to your left as you approach the town. Our check-in booth is just a few steps away in the same lot by the Cliffside Marina which is where you'll receive your boarding card for the cruise.
After checking in, we invite you to explore the town of Whittier. Here are a few of our favorite stops:
Drop by Lazy Otter for a coffee or salmon spread bagel.
Satisfy your sweet tooth at the Whittier Fudge Company
Seeking some fresh fish or shrimp? Check out Fee's Custom Seafood.
Buy a gift for friends and family back home from Log Cabin Gifts
Have lunch or dinner at China Sea or Swiftwater Cafe
Learn about WWII at the museum next to the Anchor Inn
Stay or dine at the Inn at Whittier
Stop by Wild Catch Cafe for Kaladi Coffee, breakfast or lunch
Check out kayaking options with Alaska Sea Kayakers
Watch the daily catch arrive in the small boat harbor
Hike a trail, walk the harbor, or just sit and relax or read a book
After your cruise, you may wish to visit the Alaska Wildlife Conservation Center, located at mile 79 on the Seward highway. This is a great place to view musk ox, moose, wood bison, caribou and even bears!