Getting To Us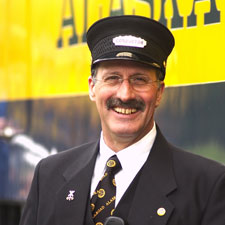 Ride the historic Alaska Railroad's Glacier Discovery train from Anchorage or Girdwood to Whittier. The Glacier Discovery route hugs the shores of Turnagain Arm, where the tide can change 27 feet in just a few hours. The route winds its way through the Chugach National Forest, home to Dall sheep, numerous moose, and black bear. As the train makes a turn away from the shore, it enters the glacially carved Portage Valley. A series of small tunnels lead up to North America's longest shared tunnel, the Anton Anderson Memorial Tunnel. This one-way tunnel is the only way to access Whittier on land. Once through the tunnel, the cruise adventure begins!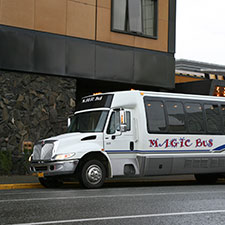 Leave the driving to us! Phillips Cruises provides daily transportation to Whittier along the scenic Seward Highway designated a scenic byway by the US Forest Service. You will travel through Portage Valley, past Portage Glacier, on your way to the longest shared tunnel in North America. Through the tunnel will emerge the town of Whittier, where your cruise adventure begins!
Day Coach connects to the 26 Glacier Cruise and Glacier Quest Cruise
Evening Coach connects to the Sunset Glacier Cruise
Whittier is an easy 63-mile drive southeast from Anchorage, with lots to see on the way. Be sure to check out the local attractions on your drive, from numerous photo stops along the scenic Turnagain Arm to the Alaska Wildlife Conservation Center, Portage Glacier, and the longest tunnel in North America. Tunnel details can be found at www.dot.state.ak.us/creg/whittiertunnel.
Phillips Cruises & Tours, LLC ticket office is located in the Cliffside Marina parking lot at 100 W Camp Rd. Our office is open during our season at 10:30 AM daily to purchase tickets or check in for your cruise. Our Anchorage reservations office is open at 7:00 AM daily during the summer to assist you with any last minute questions or reservations.
Suggestion Driving Times:
26 Glacier Cruise 9:00 AM Depart Anchorage, 10:30 AM Tunnel to Whittier, 6:00 PM Depart Whittier
Glacier Quest Cruise 10:00 AM Depart Anchorage, 11:30 AM Tunnel to Whittier, 5:00 PM Depart Whittier
Sunset Glacier Cruise 5:00 PM Depart Anchorage, 6:30 PM Tunnel to Whittier, 10:00 PM Depart Whittier
Arriving By Cruise Ship
Phillips Cruises & Tours, LLC dock is accessed in the Cliffside Marina parking lot which is adjacent to the Whittier Cruise Ship Terminal. Guests cruising to and from Whittier on board a cruise ship have plenty of time in port to enjoy one of our glacier cruises. Check in begins at 10:30 AM and all guests are requested to be on board 15 minutes prior to their day cruise departure time.
Arrival Tips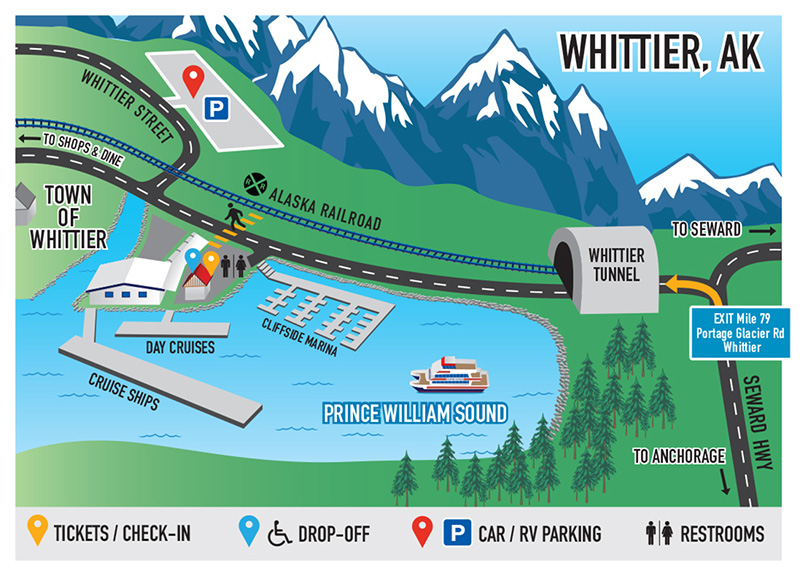 Upon arrival to Whittier, please check in for your cruise. You'll see our ticket office with a yellow triangle sign on a red roof to your left as you approach town. Our check-in booth is just a few steps away in the same lot by the Cliffside Marina which is where you'll receive your boarding card for the cruise.
After checking in, we invite you to explore the town of Whittier. Here are a few of our favorite stops:
Drop by Lazy Otter for a coffee or salmon spread bagel.
Satisfy your sweet tooth at the Whittier Fudge Company
Seeking some fresh fish or shrimp? Check out Fee's Custom Seafood.
Buy a gift for friends and family back home from Log Cabin Gifts
Have lunch or dinner at China Sea or Swiftwater Cafe
Learn about WWII at the museum next to the Anchor Inn
Stay or dine at the Inn at Whittier
Stop by Wild Catch Cafe for Kaladi Coffee, breakfast or lunch
Check out kayaking options with Alaska Sea Kayakers
Watch the daily catch arrive in the small boat harbor
Hike a trail, walk the harbor, or just sit and relax or read a book
After your cruise, you may wish to visit the Alaska Wildlife Conservation Center, located at mile 79 on the Seward highway. This is a great place to view musk ox, moose, wood bison, caribou and even bears!