Alaska State Map
Prince William Sound
Phillips Cruises & Tours, LLC is located in South-Central Alaska. Our reservations office is centrally located in downtown Anchorage at 519 W 4th Avenue, across the street from the Anchorage Convention and Visitor Bureau's visitor center. Our glacier cruises depart from the town of Whittier which is approximately 1.5 hours south of Anchorage. Travel by car along the scenic byway of the Seward Highway or relax on a narrated coach service or the Alaska Railroad from Anchorage or Girdwood to Whittier.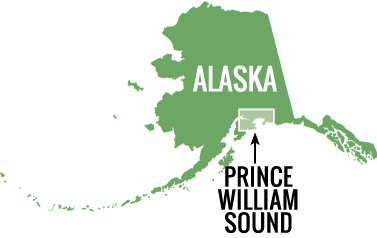 Getting to Whittier, Alaska
Driving to Whittier?
Please allow 1.5 hours to drive from Anchorage to Whittier on the Seward Highway. Near Milepost 79, you will pass the Alaska Wildlife Conservation Center on your right. In a very short distance you will make a left turn onto the Whittier – Portage Glacier road. Continue for approximately 10 minutes toward the Anton Anderson Memorial Tunnel. Please be advised that speeds are regularly checked along this road so be careful to obey the speed limit.
Palmer / Wasilla, 2.25 hours, 102 miles
Anchorage, 1.5 hours, 63 miles
Alyeska Resort / Girdwood, 45 minutes, 26 miles
Kenai, 2.5 hours, 121 miles
Cooper Landing, 1.5 hours, 65 miles
Seward, 2 hours, 89 miles
Getting To Whittier From Anchorage:
Anton Anderson Memorial Tunnel
What is the Anton Anderson Tunnel?
Every guest coming to Whittier will travel through North America's longest shared rail and car tunnel which operates on a timed schedule allowing one-way traffic through the tunnel. A round-trip fee is collected when vehicles go to Whittier. The tunnel to access Whittier is open at 30 minutes past the hour. To depart Whittier, the tunnel is open on the hour. Details can be found online at www.dot.state.ak.us/creg/whittiertunnel.
10:30 AM Tunnel for 26 Glacier Cruise
11:30 AM Tunnel for Glacier Quest Cruise
Cruises depart from Whittier Alaska
Cliffside Marina, 100 West Camp Road
Where to park in Whittier?
Please note that you may drop guests off at the boarding area before you park. Parking fees range from $7 - $12 per day in Whittier. Public parking is available just south of our ticket office and boarding area. As you pass our boarding area on the road coming into Whittier, turn right onto Whittier Street, cross the railroad tracks and turn right into the parking lot. Limited parking and a few handicap spaces are available from a private lot owner at our boarding area for $12 per day.
How to find us in Whittier?
Our ticket office and boarding area are located at the first Marina you encounter and will be on the left approximately one mile after exiting the Anton Anderson Memorial Tunnel. Our ticket office has a red roof with a big yellow triangle sign on it.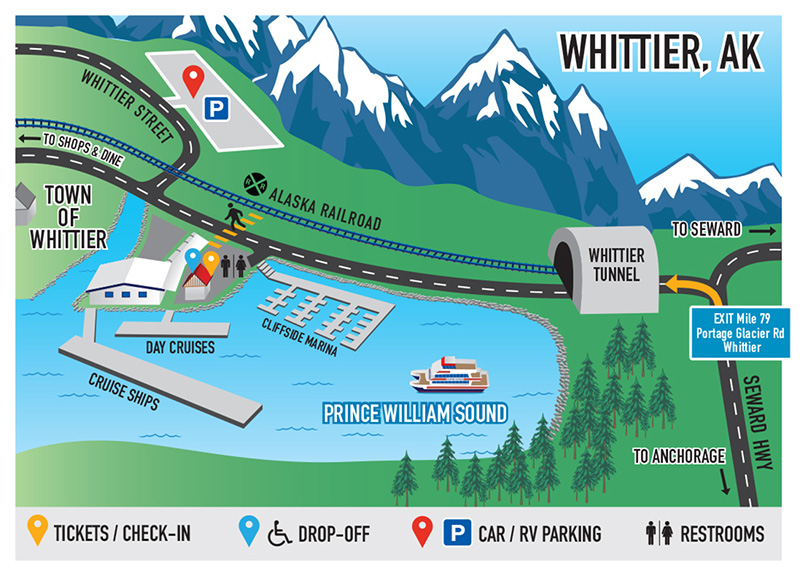 Choose from three departures!
The 26 Glacier Cruise follows the red line on the map, departing at 12:30 PM and travels 140 miles in 5 hours. A journey into Prince William Sound is unforgettable. Explore the serenity of Esther Passage, view majestic alpine and tidewater glaciers in College and Harriman Fjord while you travel in luxurious comfort aboard the Klondike Express, the fastest catamaran in Alaska.

The Glacier Quest Cruise is the yellow line on the map departing at 1:00 PM to travel 45 miles in 3.75 hours. Cruise into magnificent Blackstone Bay, home to seven glaciers and Yosemite-scale waterfalls.

Watch for playful sea otters, harbor seals, kittiwakes, Steller sea lion, bears, whales, Dall's porpoise, mountain goats and a variety of birds. Every cruise includes a complimentary hot meal, reserved indoor seating, full-service bar and snacks available for purchase, restroom equipped, and our exclusive "No Seasickness Guarantee".