Alaska Residents Exclusive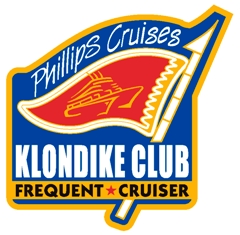 The Klondike Club
The Klondike Club is our way of saying "Thank You!" to Alaska Residents with a loyalty rewards program that allows members to earn points toward a free cruise and receive a discount when booking their friends and family on a glacier cruise from Phillips Cruises & Tours, LLC.
Call to Sign Up & Book Today!
Membership is free and it is easy to sign up for the Klondike Club.
Call us today at 907-276-8023.
The Rules Are Simple!
Klondike Club member must be an Alaska Resident. Limit to one member account per household.


The Klondike Club member must call to make the reservations for their friends and family.


Reservations must be booked by calling 907-276-8023 at least 72 hours prior to Date of Travel to receive the Klondike Club member discounted fare and earn points towards a free cruise.


Reservations must be paid in full at the time of reservation using a credit card issued under the name of the Klondike Club member.


Klondike Club members earn one (1) point for each adult fare and one-half (0.5) point for each child fare.


Points are deposited into the Klondike Club member account AFTER travel has been completed.


Points earned are valid for up to five years from the date they are deposited into the account.


Collect five (5) points and earn one (1) free cruise that may be redeemed on our 26 Glacier Cruise or the Glacier Quest Cruise.


A maximum of twenty (20) points may be redeemed per Klondike Club member per Date of Travel.


Cruises may be used as gifts or the Klondike Club member may use them for their personal travel.
Book a Cruise or Redeem Points
To book a cruise using your Klondike Club member account or to redeem earned points for a free cruise, call 907-276-8023.
Terms and Conditions
The Klondike Club membership is only for the exclusive use of Alaska Residents who may use their benefits to make reservations for their friends and family. Retail or resale in any manner is strictly prohibited. The Klondike Club is not available for use by businesses, groups, non-profit organizations or other commercial enterprises. Points may be redeemed on a space available basis and all reservations are subject to review by management. Any Klondike Club member using their account in a fraudulent manner will forfeit all points earned and be removed from the Klondike Club.
If you have a business and would like to set up a business account to book with Phillips Cruises & Tours, LLC - please see our Travel Industry page for more information.